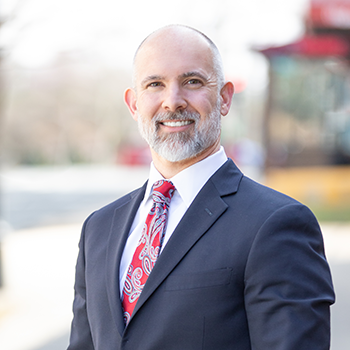 John "Jack" Reid is the Managing Attorney of the Counselors Title Dupont Circle Office. Prior to joining Counselors, Jack practiced for many years as a real estate attorney in Maryland and Washington, D.C.
Jack has been an active member in the Greater D.C. area since relocating from New York in 1997 to attend Catholic University of America, Columbus School of Law where he received his J.D. in 2000.  He began his career at NASD Regulation, Inc. (now FINRA) and earned an LL.M. in Securities and Financial Regulation from Georgetown University Law Center in 2003. Jack then served as a law clerk for the Honorable Steven G. Chappelle in the Circuit Court for Charles County, Maryland, witnessing numerous civil and criminal trials, observing court-sponsored mediations, and contributing to written opinions and orders. In his private practice he was frequently consulted by counsel for both plaintiffs and defendants for his expertise regarding novel and complex issues involving real estate, and was often retained to handle post-judgment motions and appeals in various jurisdictions in real estate related matters. From 2010 to 2014, Jack was a founding partner and General Counsel with MuniTrust Capital, LLC, a Bethesda Maryland based real estate tax lien investment fund.
As a member of the District of Columbia Bar, Virginia State Bar, the Maryland State Bar Association, and Land Title Associations in D.C., Maryland and Virginia, Jack enjoys serving as a moderator and lecturer on a number of topics, including real estate law and title insurance. Jack has also been involved in the Thurgood Marshall American Inn of Court, and the Montgomery County Bar Association. In 2010, he was appointed by County Executive Isaiah Leggett to serve on the Advisory Committee for the Montgomery County Department of Housing and Community Affairs. Jack lives in Silver Spring, Maryland with his two children and beloved dog Lennie.
Back to All Team Members